Healing Hearts Lodge, Female Transitional Housing Facility, Bismarck, ND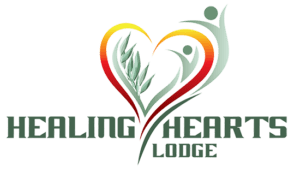 "Healing Hearts Lodge" is a two-story, 18,520 SF transitional housing facility for females with families graduating from the adjacent Good Road Recovery Center on-site residential treatment program. The MHA Nation wished to extend the "continuum of care model" by creating a safe, culturally tailored recovery environment allowing residents to live independently while completing the step-down phase of their treatment programs.
The Lodge accommodates 42 residents in 4 – Family Units, 18 – Shared Living Units and 2 – On-site Care Coordinator Studio Apartments. The facility is equipped with a computer center, a, ICC 500 Tornado Shelter, on-site laundry, and a community commons area with a large fireplace where residents will meet with families and case management staff.
Outdoor activities include a fenced child play area with a synthetic rubber surface to provide recovery support for residents with children along with gardens and walking trails. Building systems include a high-efficiency hydronic HVAC system with individual controls in each apartment, operable windows, and an energy efficient thermal envelope. A dynamic metal sculpture is installed within a walking path at the front of the building to serve as a focal point for residents and guests to contemplate the freedom a successful recovery will bring.