Diabetes Education Center – New Town, ND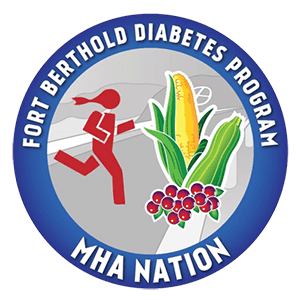 Within the MHA Nation's New Town Health and Wellness campus, the Diabetes Education Center stands out as both a visual focal point and a functional touchstone.
The Diabetes Education Center is a two-story 26,500 sf building fully dedicated to monitoring and educating the community about the importance of maintaining a healthy lifestyle for those with diabetes through active healthy nourishment and fitness.
The facility features a world-class demonstration style educational kitchen where members can learn and practice their skills in conjunction to live classes that are broadcasted online for home health participation.  The facility also features many related services, including two educational classrooms for presentations and classes, health exam and monitoring services through its clinic, a physical therapy and yoga studio, open exercise, and gym areas, an elevated 200m indoor walking track, and locker rooms for MHA Nation members.
Once through the front entrance, monumental stairs lead visitors to the second-floor open lobby and walking track, where the view shifts from the building's interior to views of the prairie outside. Located on the second floor are the buildings management offices, archive records, conference rooms, and staff office areas.
Additionally, a detached support and maintenance facility is located adjacent to the Diabetes Education Center to provide equipment storage for the vast list of events and activities offered by the MHA Diabetes Program.